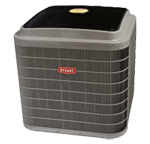 Air conditioners may look similar, but their Seasonal Energy Efficiency Rating (SEER) can vary widely. Higher SEER numbers save more money spent on electricity. A 13 SEER air conditioner, the EPA "current minimum standard", uses 23% less energy then a 10 SEER unit (EPA standard up until Jan. 2006). Even though 13 SEER is the minimum efficiency available, we currently offer a line of air conditioners that start at 13 SEER and go all the way up to a 21 SEER . Depending on your average usage, higher SEER air conditioners can significantly reduce your electric bill.
Additionally, we offer many air conditioners that have advanced features, such as 2-stage compressors and variable speed fan operation. These features not only improve the comfort level of your home, but can provide additional energy savings as well.
Preferred™ Air Conditioners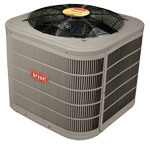 Air Conditioning for Both Comfort and Cost Savings
With our Preferred central air conditioner, you can cut your utility bills yet still enjoy reliable whole-home comfort. Its up to 17.7 SEER rating delivers energy efficient, economical operation that's as quiet as running your dishwasher.
Legacy™ Line Air Conditioners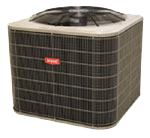 Cool and Heat Your Home with High Efficiency and High Value
The Legacy Line air conditioner provides low-cost cooling for your home with its up to 16.5 SEER rating.
Evolution® Air Conditioners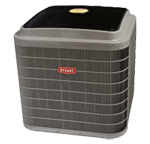 The Evolution central air conditioner delivers the ultimate in whole-home comfort with Bryant's highest SEER rating to ensure the finest in energy efficiency and economical performance.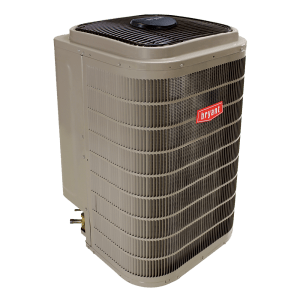 Evolution™ Variable-Speed Air Conditioner
View Brochure
Model Family: 189BNV
Efficiency SEER:
Efficiency SEER2: Up to 19 SEER2
Efficiency EER:
Efficiency EER2: up to 13 EER2
Energy Star Rated: ENERGY STAR®
Sound Level: As low as 56 dBA
Refrigerant Type: Puron®
Compressor: Variable speed compressor operates at 5 stages with capacity range from as wide as 25-100%
Factory Warranty Parts: 10-year parts limited warranty upon timely registration
Factory Warranty Compressor: 10-year limited warranty
Manufacturer's Stated Benefits:
Front-seating service valves
Inverter control drives compressor and fan motor
No control module attached to fan motor
Evolution intelligence monitors critical system parameters
Pressure equalizer valve for easy compressor starting
High pressure switch
Suction pressure transducer
Compressor discharge temperature sensor
Suction temperature sensor
Filter drier (field installed)
Internal crankcase heater standard
Solid, Durable sheet metal construction
Steel louver coil guard
Baked-on, complete outer coverage, powder paint